Beauty & Self
Books & Music
Career
Computers
Education
Family
Food & Wine
Health & Fitness
Hobbies & Crafts
Home & Garden
Money
News & Politics
Relationships
Religion & Spirituality
Sports
Travel & Culture
TV & Movies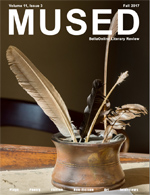 Autumn is a season for counting our blessings. For realizing just how much we have in life where so many others are without. It can often be easy to take things for granted. Things which millions of people desperately dream of having. By pausing for a moment, and looking around with mindfulness, we can find a new center. Begin with fresh energy.

Enjoy the Mused Autumn Equinox 2017 Issue



30 Tat. Designs 2" Beveled Glass - Carolyn Craig
Tatting - Georgia Seitz, Editor

Carolyn Craigs "30 Tatted Designs for 2 inch Beveled Glass" book review.




Ozark
Prime Time TV - Maria Brown, Editor

From the increasingly popular original content creator, Netflix, comes a new drama staring Jason Bateman as financial planner, Marty Byrde who relocates his family to the Ozarks in an effort to launder money for a Mexican drug cartel.




Carrot Halwa Recipe
Indian Food - Sadhana Ginde, Editor

Hmm, carrots for dessert? Really?!? Only in India :-) My easy to prepare Carrot Halwa is a delicious & beloved dessert enjoyed throughout the country. This traditional dessert may sound strange, but trust me - one heavenly little bite, and you will be hooked for sure - so try it soon!




Pasadena's Suicide Bridge
California - Korie Beth Brown, Ph.D. , Editor

Another ghost tale to celebrate the autumn season in California!




Changing Yarn Weights in Sweater Patterns
Knitting - Korie Beth Brown, Ph.D., Editor

Prefer DK to bulky sweaters, but love a certain pattern? Re-size it and make it your own!




Review of Mindfulness - An Everyday Guide
Yoga - Korie Beth Brown, Editor

This single issue publication is a fast read covering a number of subjects related to yoga and meditation. What it includes in breadth it unfortunately lacks in depth, however. Should you purchase it? Read on for more information.


| Google+ |
E D I T O R R E C O M M E N D E D
The Weiser Field Guide to Cryptozoology


The Weiser Field Guide to Cryptozoology by Deena West Budd includes information, interviews, and stories about forty different cryptids seen in various places all over the world by credible eyewitnesses like policemen, rangers, and doctors. Readers will learn where and how to find flying humanoids, hairy humanoids, giants of all kinds including rabbits, bats and spiders, goblins, and vampires.
Pinnacle Car Care


The Creme De La Creme of Ultimate Car Care is In the House! Using Pinnacle´s product line is like a visit to the salon and the results--magnifique!