Beauty & Self
Books & Music
Career
Computers
Education
Family
Food & Wine
Health & Fitness
Hobbies & Crafts
Home & Garden
Money
News & Politics
Relationships
Religion & Spirituality
Sports
Travel & Culture
TV & Movies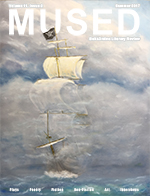 Our time on this Earth is fleeting and precious. We often know that in a vague, intellectual sense, and yet we can find ourselves whittling away those finite minutes without mindful thought. We should celebrate the beauty in a child's smile. The radiant sound of saying "I love you" to that special person. The warm touch of a hand. The delicate scent of a wildflower.

Enjoy the Mused Summer Solstice 2017 Issue



Flu seems to fly around the city of Bangalore
Romantic Getaways - Marianne de Nazareth, Editor

The monsoons are delayed and have brought the 'Flu with them




Santiam Filberts and other Varieties
Landscaping - Connie Krochmal, Editor

Santiam filberts and Yamhill filberts are only two of many outstanding varieties. Here are details on these varieties.




Short Videos by Experts Explaining ADD
Attention Deficit Disorder - Connie Mistler Davidson, Editor

A picture is worth a thousand words, and a video made by an articulate expert is worth its weight in gold. Do you ever get tired of talking to people who do not understand or believe in the challenges that come with Attention Deficit Disorder? These expert videos might help them to understand.




Coins May Replace Nigerian Notes
Coin Collecting - Gary Eggleston, Editor

A scarcity of small-denomination cash, inflation, the high cost of production and rampant counterfeiting are many of the reasons why Nigeria is currently considering replacing several bank note denominations with coins. Particularly vocal on this issue is Mustapha Bukar, who represents the Katsina,




Used Stamps Or Mint Stamps
Stamps - Gary Eggleston, Editor

Stamp collectors have always been presented with a choice of collecting mint stamps or used stamps. Which is better to collect? Collectors have been split over this issue over the years. The overall majority of collectors swing one way or the other with a few collecting both ways.




Insect stings
Allergies and Colds - Sheree Welshimer, Editor

Know how to prevent and treat this common summer-time occurrence


| Google+ |
E D I T O R R E C O M M E N D E D
Visual Link Spanish


Spanish language, interactive lessons. You can try 11 lessons for free. I´ve been recommending this course for several years, as I find it very intuitive.
Lidia´s Italy


A great Italian cooking book, with a diverse selection of Italian recipes that will takes the readers on a journey through some of the most beautiful areas of Italy and their grand culinary traditions.
Golf Rules Illustrated


Beginning golfers should have this book as they learn the game of golf and experienced golfers should refer often for reference. Knowing the proper etiquette with help you enjoy the game. Published by the United States Golf Association.